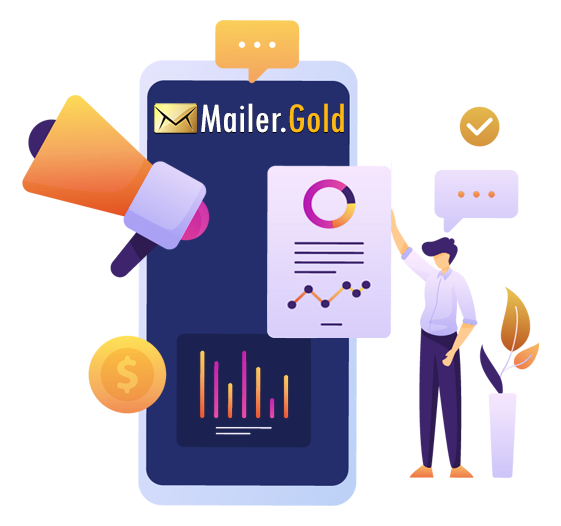 About Mailer.Gold
Dynamic Pricing* Drives Massive List Mailer Value!
Get in Fast! The Lifetime Membership Price Increases One Penny ($.01) with every member upgrade.
The sooner you join and upgrade the lower the price you pay.
Right now the next Gold buyer will pay $17.36/Lifetime.
It's a simple concept - provide top quality list mailer value at dirt cheap prices ($27.80 or LESS!) while the membership is just starting to grow.
As the paid membership grows so does the value and as the value increases so does the price.
Our goal is to build a paid membership of 10,000+ members and 100,000's of free members, too (yep, you can join free but why would you want to?)
The first 2,000 members will get a LIFETIME membership with the ability to mail to all members, free and paid, for life.
The next 2,000 members will be able to purchase Annual memberships for no more than $27.80 - with hundreds able to buy for MUCH less than $27.80 - depending on how quick they take action, of course.
Get Started
Mailer.Gold is all about delivering paid member eyeballs to view your ads.
Think about it - people who can and will reach into their pocket to buy advertising are much more apt to do it again with your offer, right?
That's why Mailer.Gold values the paid member so much and why we want to provide massive advertising value...
Take Action now, Join for Free and
Put the Power of Dynamic Pricing to work for YOU!
Definition: * Dynamic Pricing or time based pricing, is a pricing strategy in which a business sets flexible prices for products or services based upon current market demands.
WAIT!!!
Here at Mailer.Gold we are ALL about Value - hopefully that's been apparent to this point, but...
We also are driven by REWARDS and we want to Send You Money!
Yep, that's right - Mailer.Gold has a lucrative referral plan that pays you up to 60% Commissions - possibly over and over and over again!
Our valued paid members earn 60% commissions and we want to reward our free members for referrals, too. Free Members will earn 30%.
HINT: Low on Cash and want to upgrade while the price is low? Quickly share this incredible advertising value with your friends and earn your way to a paid membership! (We have some killer marketing content!)
Mailer.Gold Features
Let's Summarize What You Get Access To
Here are the main features of Mailer.Gold. Have a look at what makes Mailer.Gold so unique.
List Mailer
Paid Gold members can Solo Ad emails to all or all Gold members once every 3 days. Free Silver members can use mailing credits to email up to 1,000 Silver members once every 7 days.
Dynamic Pricing
We are building this PAID membership with dynamic (variable) pricing so now you get the BEST value possible!
Banner & Text Ads
Paid Gold members get access to 5 text and 5 banner ads with unlimited views!
Commissions
As a free Silver member you can earn 30% commissions on all Gold Upgrade sales. As a paid Gold member you can earn 60% commissions on all Gold Upgrade sales.
Pay Features
You can pay for your Gold Upgrade with Visa, Mastercard, American Express, Maestro, JCB, China UnionPay, Link, BTC, ETH, LTC, TRX, Doge, or earnings!
Rewards
You can withdraw your earnings to your BTC, ETH, LTC, or TRX wallet or in USD to your Payeer, or your Farad Connect account, or to your bank account via Wise!
Ask Anything
Frequently Asked Questions
Below we answer the most common questions about Mailer.Gold. If you have a question that has not yet been answered, please contact us via our helpdesk at https://Reply2Frank.com!